Simpsons Links:
NoMeansNo, Punk, Simpsons

Simpsons Plane

3-D Homer Halloween Special

Australian Simpsons Page (Done Well)

Da Simpsons

David Mocko's Simpsons Page

George's Simpsons Page

Harry Shearer: The Simpsons Page

Jukka Keskiaho's Simpsons Page

Mook's Simpsons Page

Neulz's Simpsons Page

Phil's Simpsons Page

Simpsons file archive
---
Miscellaneous TV-related Links
FOX:
The Ultimate TV List - Lists of MANY TV shows
---
Other shows not mentioned here:
Duckman, Seinfeld, Batman: The Animated Series, Max Headroom, Popeye, Ren & Stimpy, Simpsons, Space Ghost Coast To Coast, The Maxx, The Tick, X-Men

To see what episodes of these series I have on tape, click here.
---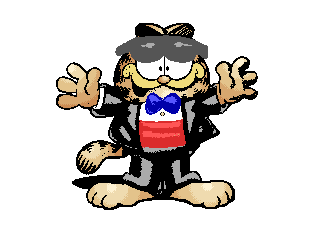 Garfield & Friends
(Airtime: Unknown. Plays on TBS, The Cartoon Network , and sometimes CBS.)
Garfield -

An 8-minute cartoon involving Garfield the Cat, John, the cartoonist, and Odie, the stupid dog.
The "And Friends" part of the show. For every two Garfield cartoons played, there is one U.S. Acres cartoon played. U.S. Acres consists of Orson, the pig, Roy, the rooster, Wade Duck, the cowardly duck, an egg, a couple of sheep, Orson's three evil brothers, and a baby chicken. I may have missed some of the characters. Many people want to skip U.S. Acres when watching Garfield, and admittedly U.S. Acres is not as funny as Garfield, but it's still entertaining.
---
Shows that have earned Honerable Mention:

Absolutely Fabulous, Friday The 13th: The Series, Rugrats, Spiderman, The Mask, WildCATS, The Real Adventures Of Jonny Quest, The Pirates Of Darkwater

To see what episodes of these series I have on tape, click here.




---
Please email me with interesting convo: ClintJCL@gmail.com
You are visitor number [an error occurred while processing this directive] (since 1/24/97).