I have a ton of stuff on tape (thousands of hours)...

By the way... to see my home LAN setup: http://www.dslreports.com/metashare/a77757.

About Me...
General stuff about me.
Includes a thorough table containing basic facts (age, height, favorite foods, movies, etc) about me and my family.
Last change: 1/99.


THE CHURCH OF THE SUBGENIUS:
Salvation, or Salivation?
A joke disguised as a religion? Or an actual, secretive religion, disguised as a joke disguised as a religion? Or, an incredibly complex joke, disguised as an extremely ambiguous religion, disguised as a joke disguised as a religion?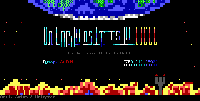 On Earth As It Is In Hell (As It Is On The Internet)
I once ran a BBS in the pre-internet days. This page is all that remains of it. Even the source code that I meticulously added over 125 modifications to is now destroyed due to Western Digital harddrive failure. Included within are voting question results, and old EXE advertising the BBS, oneliners, the logon story, rumours, a list of known ex-users who are on the net today, and the last set of user messages. See just how offensive non-censored college students can be when given an alias! WARNING: Offensive material within.



| | |
| --- | --- |
| | Theta Zeta was coed social organization (non-official fraternaty) whose purpose was to provide an alternative to the standard conformist, dues-paying, prep-boy, jock-ridden, VaTech-controlled, keg-prohibited fraternities. |



You are visitor number [an error occurred while processing this directive].
Please email me with interesting convo: ClintJCL@gmail.com
Check out my video/music/media catalog.