On Earth As It Is In Hell...As It Is On Internet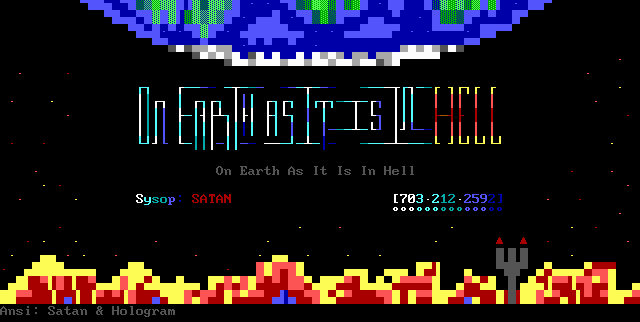 *** NOTE: SOME OF THESE PAGES WERE CENSORED BY VIRGINIA TECH! But then I found a new webhost in 2009, and everything was butter.
Introduction
I used to run what was at one time Virginia Tech's biggest message board. Sometimes we would have 250 messages in one day. It would sometimes take hours a day just to keep up. Below are some shadows of the past, which I created by using an ugly program I wrote to convert ANSI to HTML (called ans2html).
Download ANS2HTML.ZIP Now! (with source)


---
Oneliners, Logon Story, And Rumours
There were several places on the BBS where users could enter one line and have it exist within the board forever. There were 10 sets of oneliners, which were displayed during logon and occasionally reset. There was also the logon story, which was VERY obscene, offensive, and funny (thanks, guys!). Finally, there were rumours, which were displayed at every prompt.



---
Voting Questions
Click here for the final voting question results.
As you may already know, I had modified the source code to make voting mandatory. We then had many pointless and fun voting questions, which everyone was forced to answer before proceeding onto the main BBS. Here are the final results, as of May 12, 1994.


---
Demo
I once created a cheezy demo/advertisement using a program called "Demo Creator" or something. It involved a picture and a scroller. For the picture, I just made up some cheezy PCX with Windows Paint and some fonts, and converted it to GIF. I made it in one sitting, and people still remember it! So now you can download it.
Download HELL.EXE Now!


---
The Last Set Of Messages
Of course, the main highlight of On Earth As It Is In Hell was the message bases. These bases provided a forum for users to:

anonymously start fights for no reason at all,
brag about things that never really happened,
argue for weeks on end about ANYTHING,
talk about things no one normal could possibly care about,
mess around with COLOR CHANGING for the aesthetic/annoyance value,
...and in general just waste time.
All in all, it was a real good time, but nothing contained within should be taken too seriously.

WARNING: Offensive materital within.
Scan Vintage Messages Now


---
Old Users Who Are On The Net
There are many old users with whom I still communicate. I'm not sure if it is 100% ethical to reveal the email address of someone with an alias, but then again, not much on the BBS WAS ethical, and I really don't think anybody is carrying any personal vendettas over ANYTHING that happened over 3 years ago.

However, if you DON'T want your address listed here, just mail me, and I will take your email address out.

Conversely, if you DO want your alias/email address listed here, but it isn't, just mail me, and in your message include the email address you want printed on this web page, and what your old alias was.

THE LIST:

IF YOU KNOW ANYBODY WHO'S MISSING, SEND ME THEIR ADDRESS!!!!!


OTHER USERS FROM THE SAME CROWD THAT YOU MIGHT KNOW:





---
You are visitor number [an error occurred while processing this directive].
Please email me with interesting convo: ClintJCL@gmail.com
Go back to Clint's Home Page.